ICT Infrastructure
Introduction
From its very inception, Khwaja Fareed University of Engineering & Information Technology (KFUEIT) is Convinced that, if it wants to achieve its lofty objectives, it would require very strong Information & Communication Technology (ICT) infrastructure. Provision of state-of-the-art ICT facilities to its faculty, students & administrative staff are the cornerstone for development of Khwaja Fareed University of Engineering & Information Technology. With this in view, we at KFUEIT have perfected an ICT infrastructure design, through which we have implemented all sorts of information systems with ZERO cost for the software component, by leveraging open source technologies. For the hardware and networking components we have implemented solutions with long life and low cost. Additionally, with a minimum number of supporting staff, the deployed IT infrastructure gives KFUEIT, a leading edge over all other universities in the region.
The Campus incorporates cutting-edge ICT technologies to provide triple play services (data, voice and video) to the whole campus. This includes University Data Center, Campus-wide Fiber Optical Network and Wi-Fi mesh for high-speed data connectivity, video conferencing, IP-telephony, IP Fax facility, Smart class rooms and various other interactive features for entire campus. Solutions that we have made operational at KFUEIT for the academia include the technologies of learning management, university management, project management, communication and collaboration, virtual private network, thin client computing and multimedia services. At KFUEIT, our focus is to facilitate the adoption of open source software and technologies, in order to strengthen the technological base of the country and, at the same time, use the less money, thus saved for development of physical infrastructure.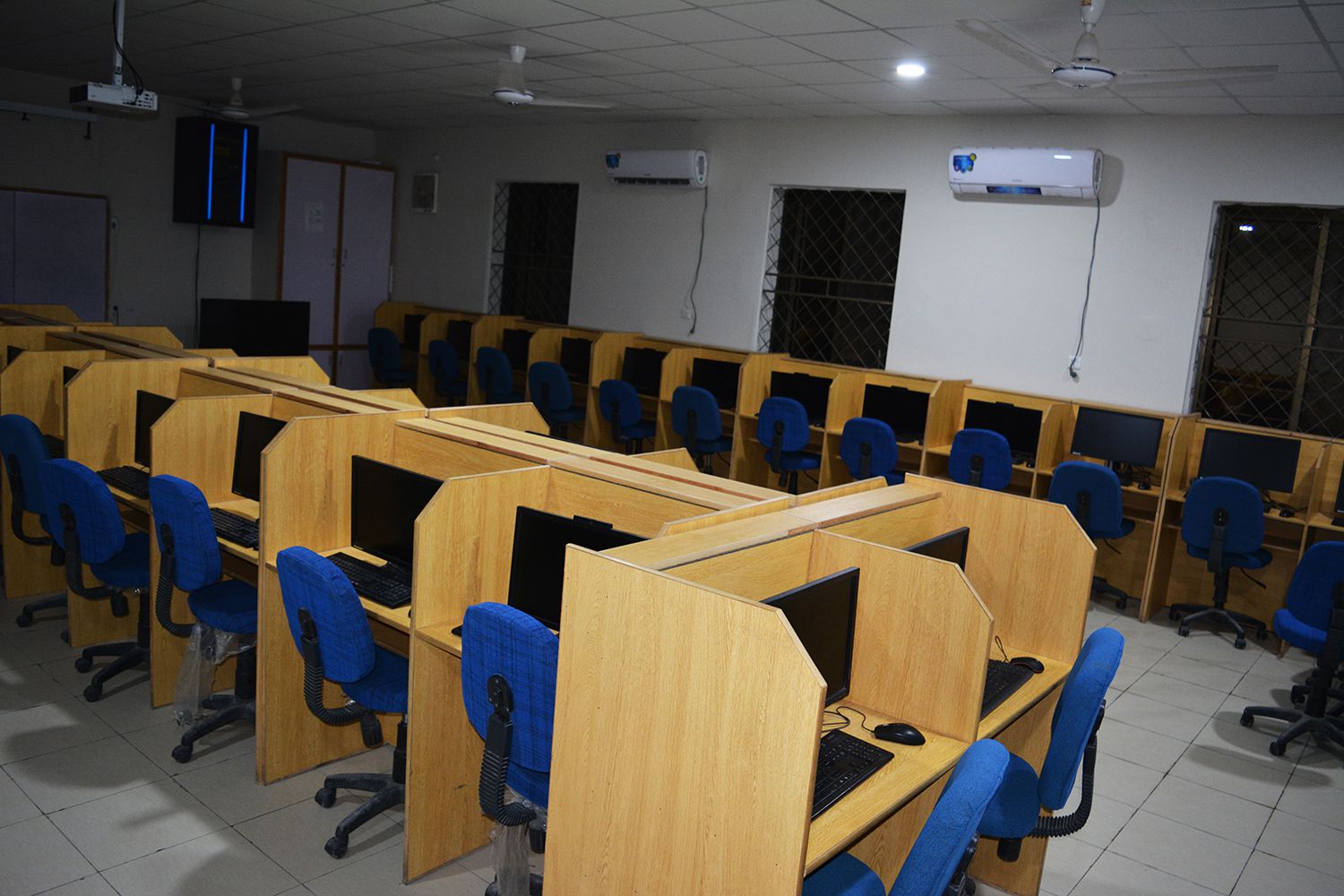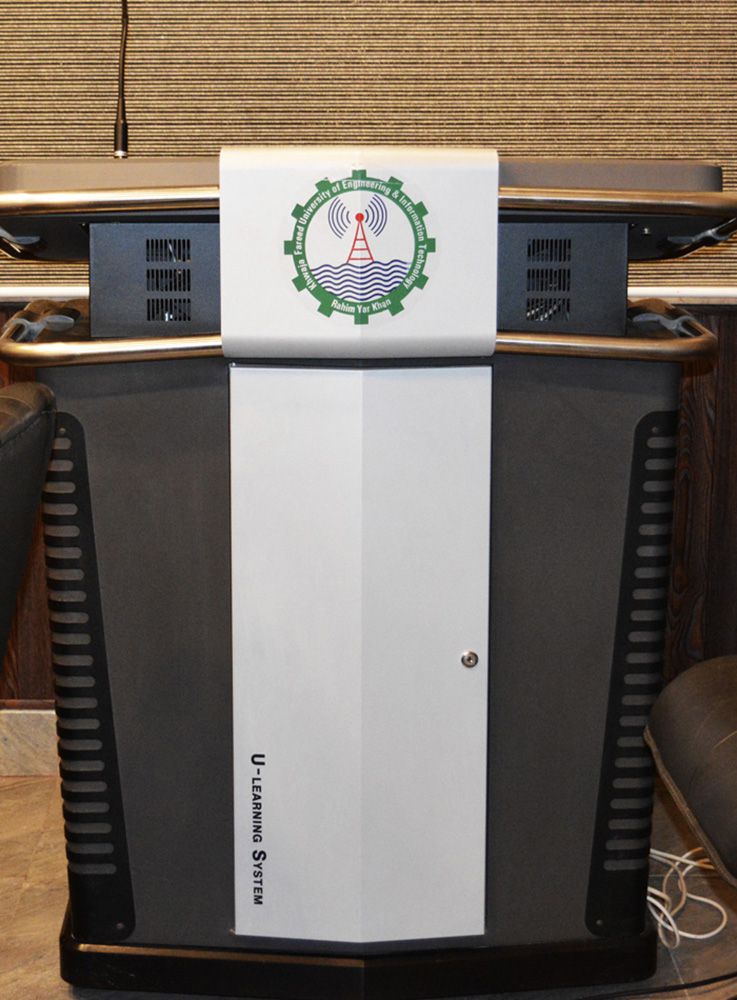 KFUEIT Data Center
University mini datacenter is developed in accordance to common standards including fire detection, alarm & suppression system, redundant AC units, precision UPS & power system, CCTV and access control system for remote monitoring. KFUEIT data center is acting as hub for dissemination of LAN, Internet, IP-telephony, IP-Fax and Web Services, Server Farm which includes LMS, MIS, ERP, Firewalls, Wireless LAN Controller, Directory servers, Proxy, Email, Web, Network Management System, Backup and many more). More hardware has been added in data center in 2019 including additional racks for housing additional servers and large LCD for network monitoring.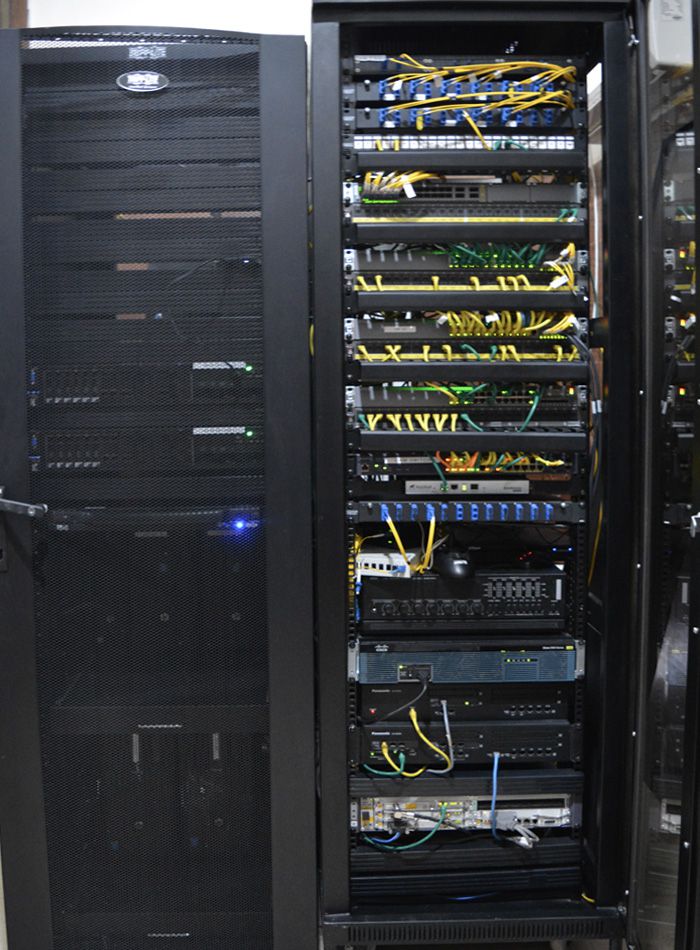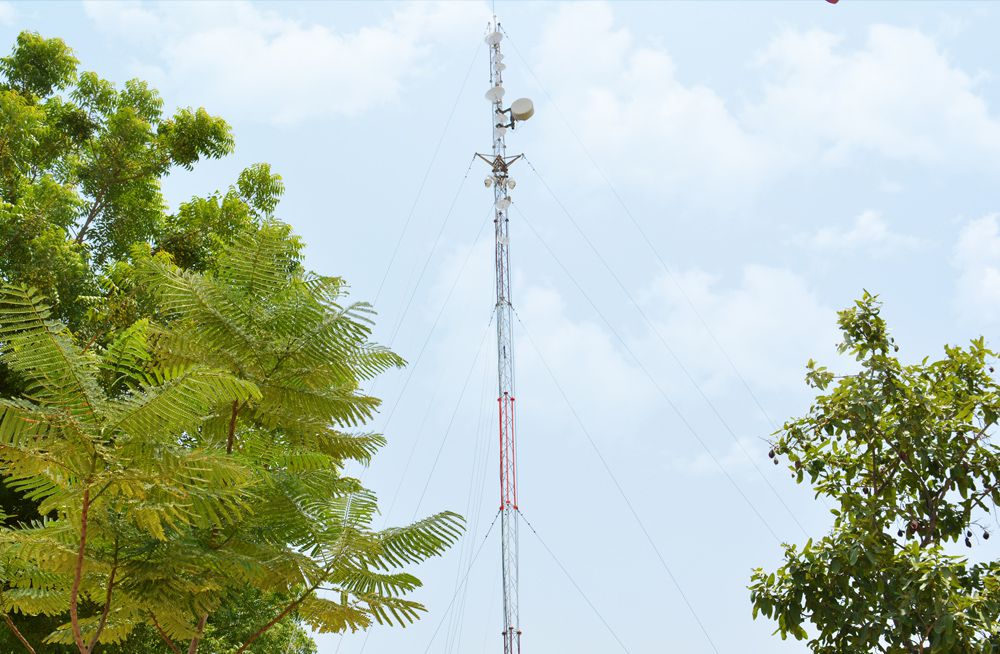 Admission Portal
Online applications
Submission on eligibility criteria matched
Online fee vouchers with online verifications
Academic session wise data
Merit list generation
SMS Notifications
Email Notifications
Documents management
International Students
Statistics (program/region/gender)
User and Role management system
Audit Logs
Mobile friendly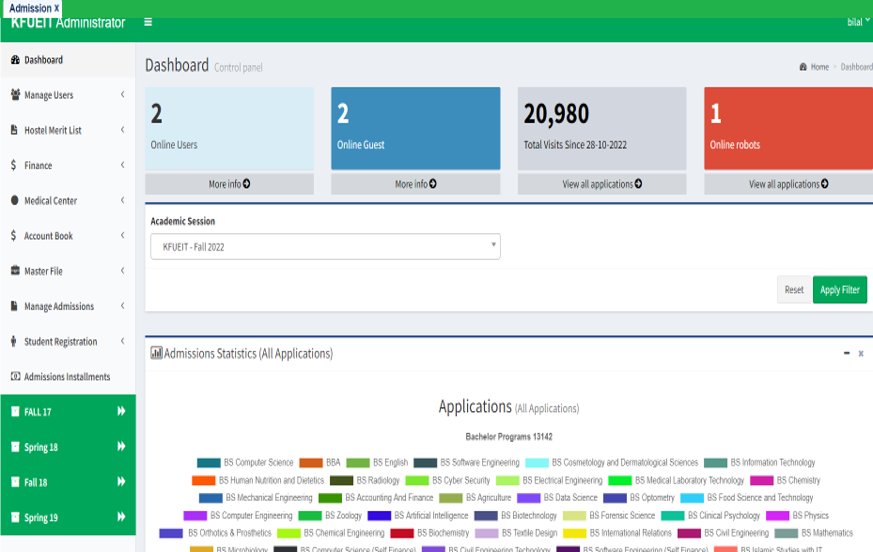 Academic Management System
Students records
Departments
Faculties
Course
Plan of study
Course allocation
Students Enrollment
Teachers workload
Grade Book
Fee Plan
Academic Role
Result intimation
Students Transcript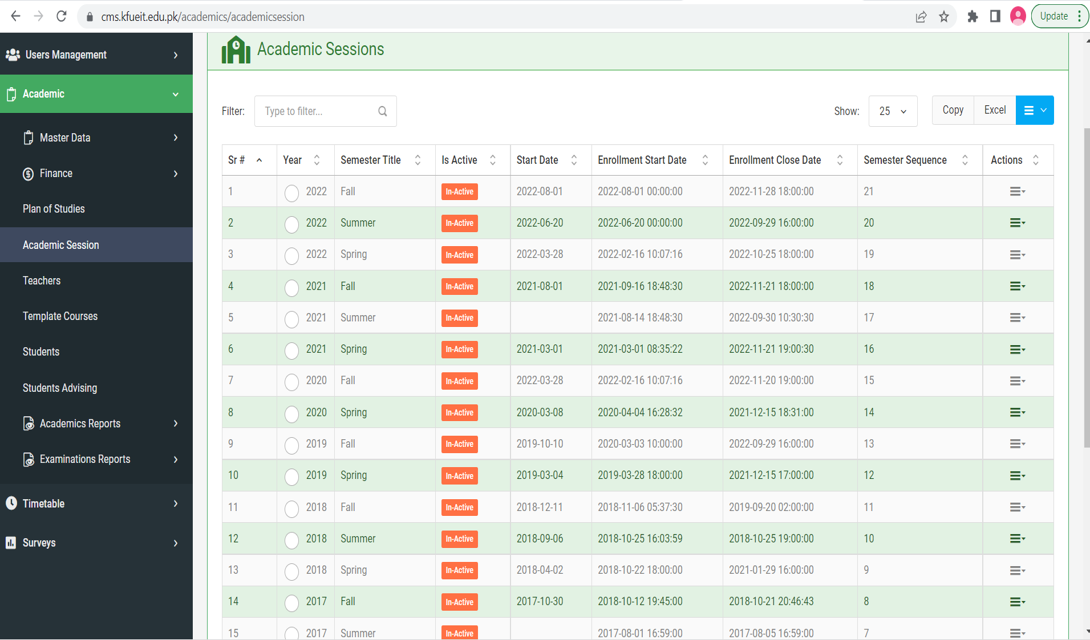 Learning Management System
Student course
Attendance
Assignments
Quiz
Virtual Programming Lab
Turnitin Assignment
Announcements
Online Exams
Notifications and course related activity or resource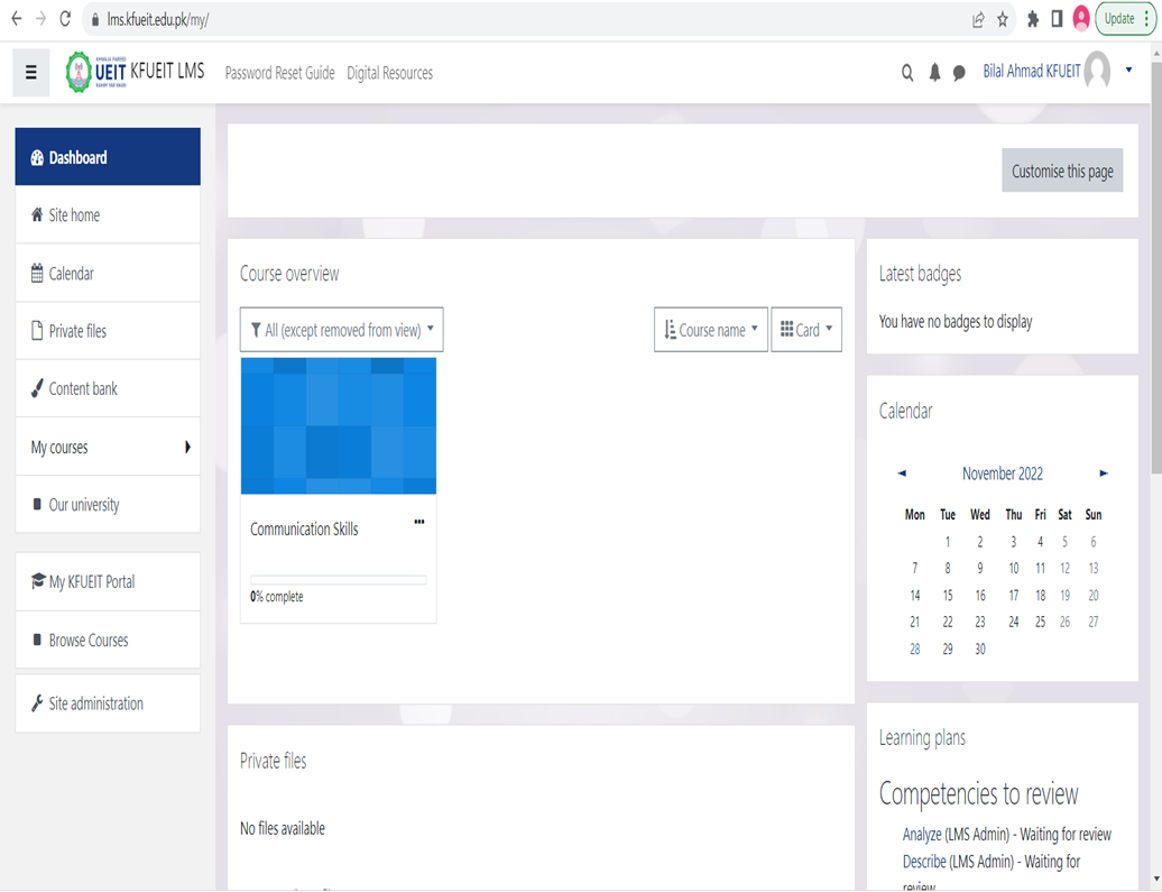 A Glimpse of IT Facilities Available at KFUEIT
KFUEIT ICT facilities are being continuously upgraded to keep them in sync with fast paced advance in computing technologies. The KFUEIT believes that a modern IT environment for students, faculty and administration is absolutely essential for providing quality education. To achieve this objective, the recently commissioned state-of-the-art ICT infrastructure will allow easy accessibility to students, faculty, administration, as well as parents and alumni, enabling them to interact with one another. The KFUEIT ICT department provides computing facilities to staff, faculty, and students. It also develops plans with objectives and actions that help achieve a highly competitive and technology-intensive environment for the Institute. Few of the major IT services provisioned at the campus are as follows:
University IT Data Center.
State of the art Campus Network and IT Infrastructure.
High-speed intra campus connectivity over fiber optics cable with transmission rate up to 10Gbps.
WiFi facility all over campus and in hostels with 120+ wireless access points.
Redundant Connectivity of sites at Point to Point Radio links.
Internet Bandwidth 366Mbps CIR available at KFUEIT through multiple ISPs.
HEC Pakistan Educational Research (PERN) Network Link Connectivity.
HEC Digital Library Access
IP Telephony Exchange & Fax Service
600+ Lab Computers for Students
All Computer labs connected via high-speed LAN.
Video Conferencing System Facility at all Conference Rooms
Next Generation Firewalls, IPS, IDS Security System
Biometric & RFID based attendance management system for employees and students.
Campus RFID Card Printing & Scanning System
VPN for secure campus data access from remote location.
Round the clock e-mail systems available for faculty, staff and students
LMS (Learning Management System)
HR Management System
Exam Management System
Scholarship Management System
Timetable Management System
Library Management Systems
Store and Inventory Management
Accounting & Finance System
Lectures Attendance System
Visitor Management System
Case Management System
ORIC Dashboard
Students Queue Management System for One Window Facilitation Center
University Open Courseware
Hostel Management System
Online Testing System
Transport Management Systems Management System
Online surveys for end-semester students feedback
Turnitin Access for Faculty
University Public websites
Admissions Management System.
Online Job Portal