ICT Infrastructure
Introduction
From its very inception, Khwaja Fareed University of Engineering & Information Technology (KFUEIT) is Convinced that, if it wants to achieve its lofty objectives, it would require very strong Information & Communication Technology (ICT) infrastructure. Provision of state-of-the-art ICT facilities to its faculty, students & administrative staff are the cornerstone for development of Khwaja Fareed University of Engineering & Information Technology. With this in view, we at KFUEIT have perfected an ICT infrastructure design, through which we have implemented all sorts of information systems with ZERO cost for the software component, by leveraging open source technologies. For the hardware and networking components we have implemented solutions with long life and low cost. Additionally, with a minimum number of supporting staff, the deployed IT infrastructure gives KFUEIT, a leading edge over all other universities in the region.
The Campus incorporates cutting-edge ICT technologies to provide triple play services (data, voice and video) to the whole campus. This includes University Data Center, Campus-wide Fiber Optical Network and Wi-Fi mesh for high-speed data connectivity, video conferencing, IP-telephony, IP Fax facility, Smart class rooms and various other interactive features for entire campus. Solutions that we have made operational at KFUEIT for the academia include the technologies of learning management, university management, project management, communication and collaboration, virtual private network, thin client computing and multimedia services. At KFUEIT, our focus is to facilitate the adoption of open source software and technologies, in order to strengthen the technological base of the country and, at the same time, use the less money, thus saved for development of physical infrastructure.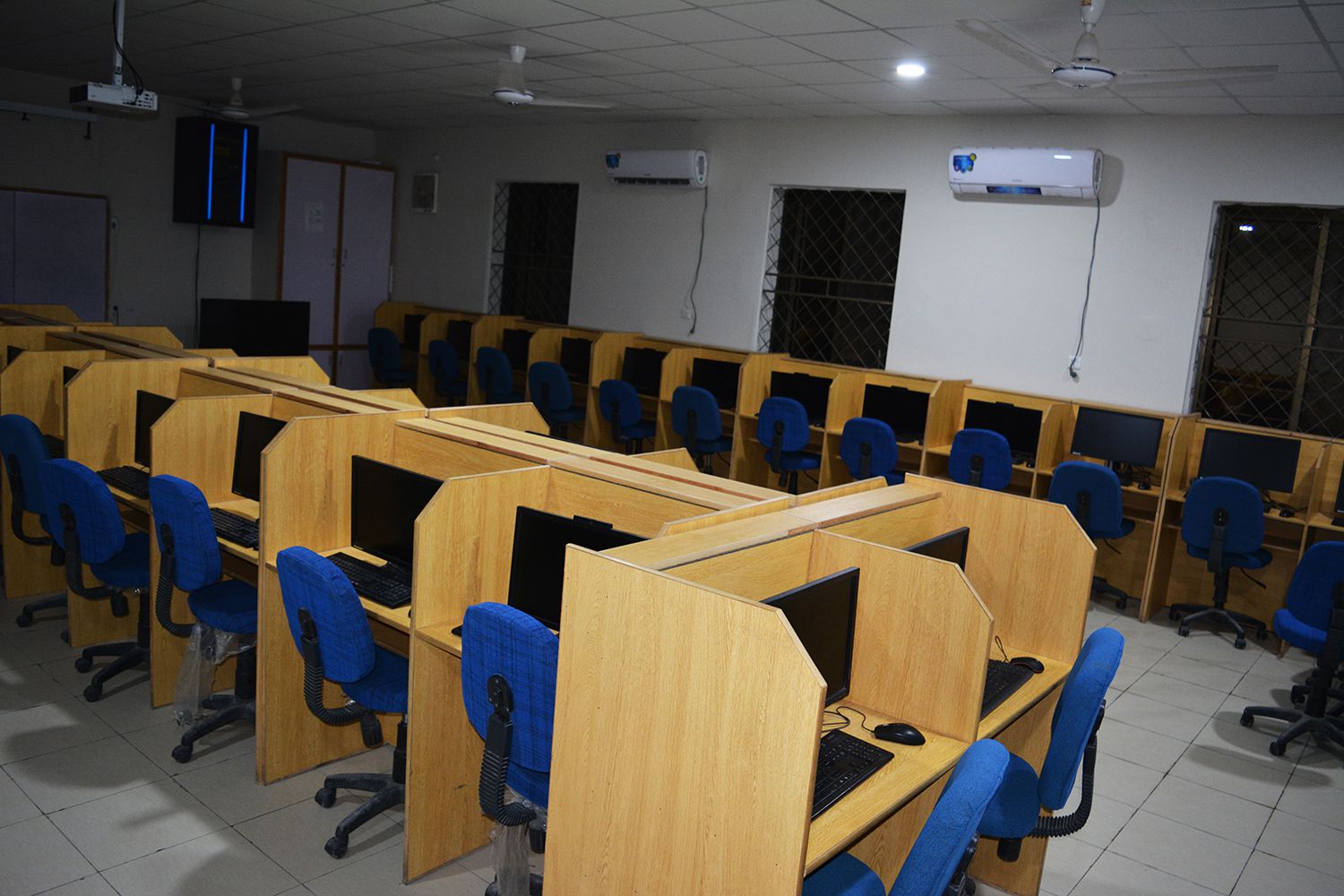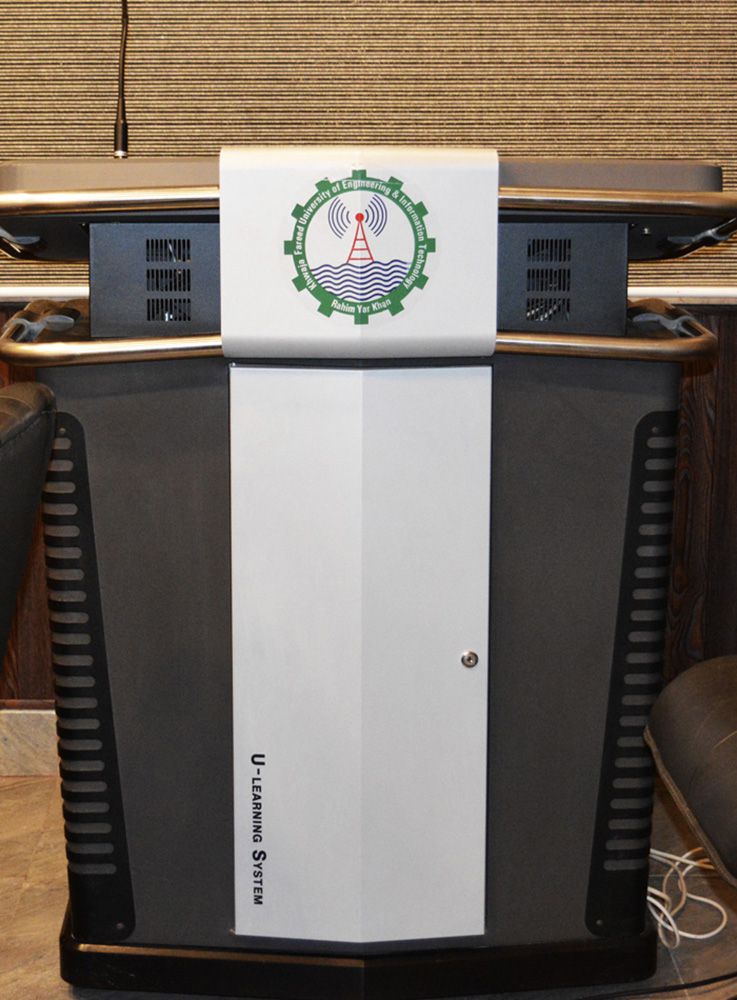 KFUEIT Data Center
University mini datacenter is developed in accordance to common standards including fire detection, alarm & suppression system, redundant AC units, precision UPS & power system, CCTV and access control system for remote monitoring. KFUEIT data center is acting as hub for dissemination of LAN, Internet, IP-telephony, IP-Fax and Web Services, Server Farm which includes LMS, MIS, ERP, Firewalls, Wireless LAN Controller, Directory servers, Proxy, Email, Web, Network Management System, Backup and many more). More hardware has been added in data center in 2019 including additional racks for housing additional servers and large LCD for network monitoring.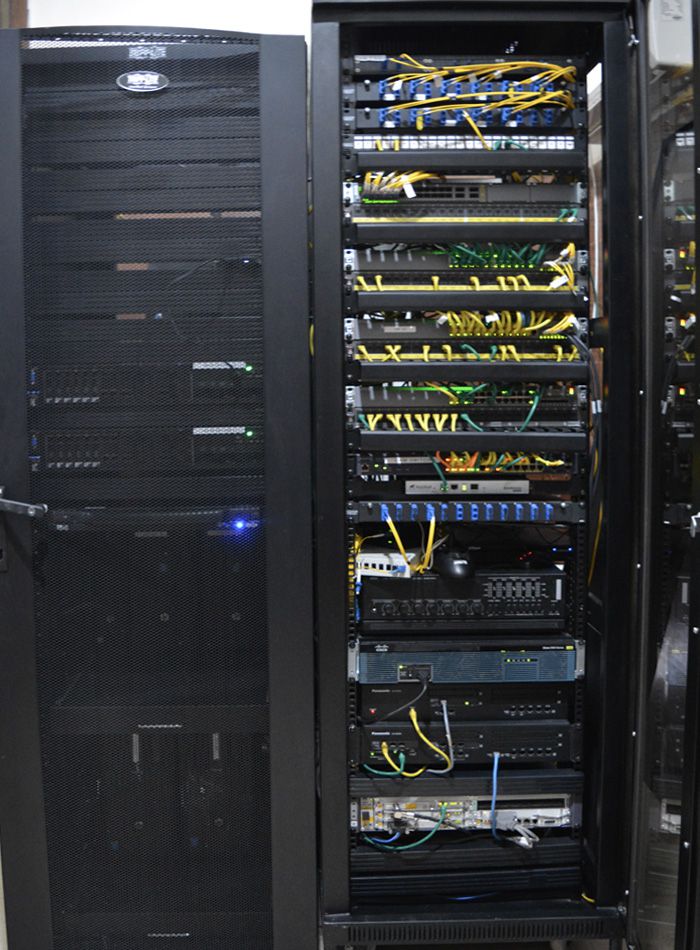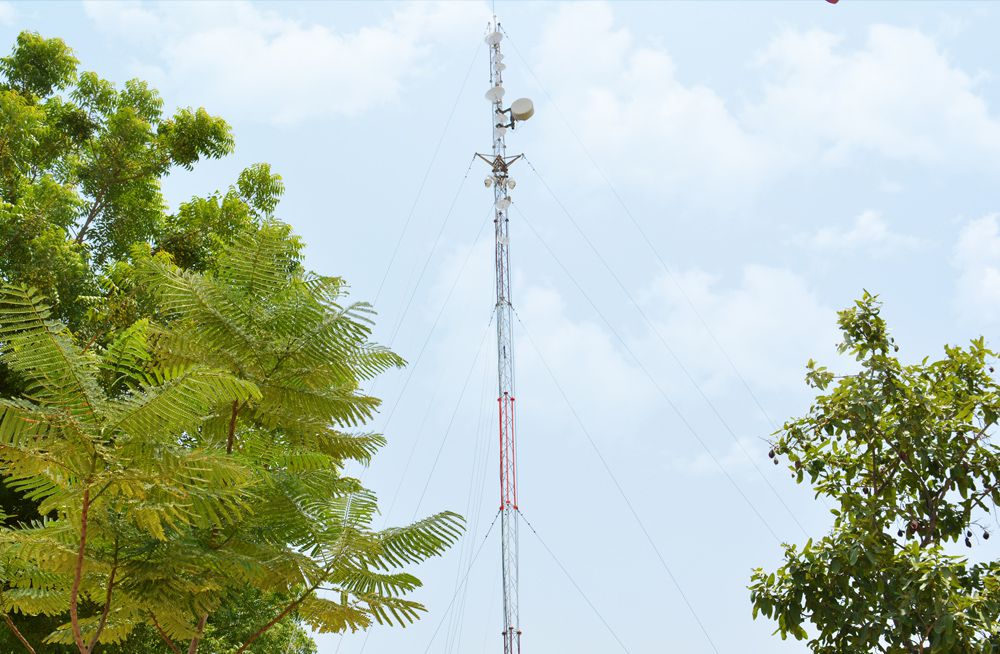 KFUEIT Private Cloud
ICT infrastructure has been developed, based on the cloud computing paradigm. Keeping in view the security of information and requirements of a teaching and research university, both private as well as public clouds are leveraged. The private cloud consists of KFUEIT's own data center and a well designed high performance campus network.
KFUEIT Campus Network Infrastructure
Campus Network consist of collapsed core architecture which includes security, distribution and access layers. The network backbone comprises of primary & backup fiber optic links to network & communication rooms of each academic building. This is a hub-and-spoke architecture using routing and switching. High end switching fabric core and distribution switches, firewalls with high transmission rate ranging from 10 to 40 Gbps are commissioned. Gigabit Access Network has also been commissioned to ensure high-speed computing at user level. Access switches of high switching capacity are installed to handle data and multimedia traffic, efficiently. Redundant fiber optic links from each access switch to primary & secondary distribution switches are available for reliable layer-3 connectivity to each LAN user. It is important to mention here that device and link redundancy has been maintained at every level to ensure un-interrupted ICT services to users.. Switch to user connectivity is provided through top-of-the-line Gigabit Unshielded Twisted Pair (UTP) copper cabling. In order to monitor and manage the whole network, proprietary Network Management Systems (NMS) are being used. Since KFUEIT hostels are currently located at city area , in order to facilitate the intranet and internet services at hostel point to point wireless links are commissioned at all boys and girls hostel.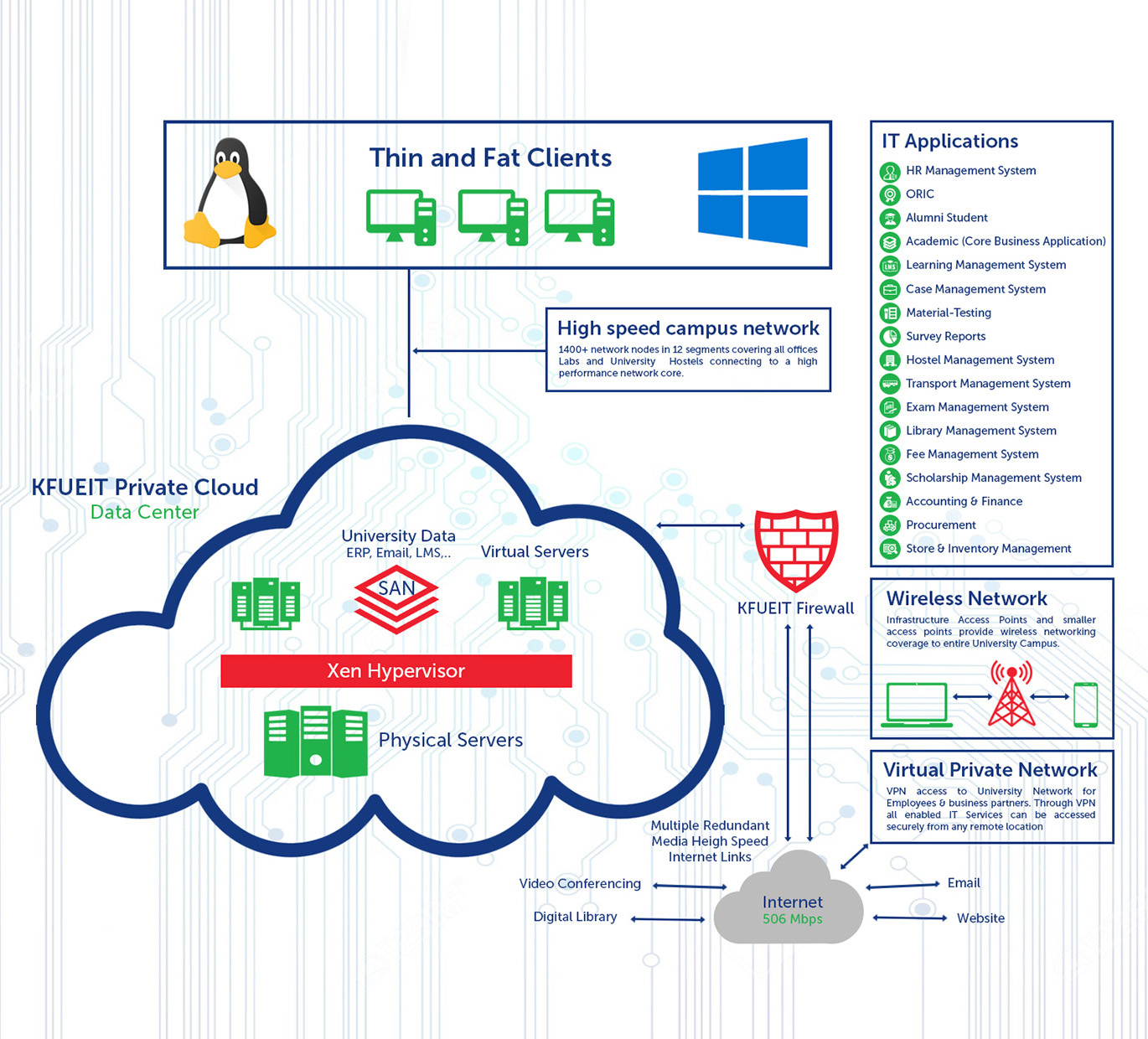 KFUEIT Smart Campus Technology
Taking advantage of technological advancements, University has implemented Wi-Fi mesh network throughout the campus. Wireless indoor and outdoor Access Points (APs) have been installed to give internet/network access to students, faculty and staff. Internet access has also been provided at all hostels through this network. It employs latest wireless protocol 802.11n with each AP providing a bandwidth up to 300 Mbps to the users. A total number of 70 APs are installed all around the campus and hostels.
High Speed Internet
High speed internet is available, round the clock, at campus and hostels for all the students, faculty and staff of University. Since KFUEIT ICT department was established in 2016 and it was their key preference to ensure the provision of high speed internet and IT facilities to the university users. Year wise students and internet bandwidth statistics are shown below.

IP Telephony & Fax
An integrated, modular, state-of-the-art communication server that supports advanced IP business-class Telephony System are operational at KFUEIT. Voice over IP (VoIP) system is based on Asterisk PABX Enterprise solution providing voice and data over a single network. The system is highly reliable having features such as voice mail and supports IP and PC soft phones, automatic call distribution, call-routing software, call-forwarding, automatic transfer of incoming calls, automated attendant, voice activated management of incoming calls, voice guides for external callers etc. It gives a unified view of the network as well as the necessary functions and features for centralized management, bulk operations, simplicity, and scalability. A total of 200 users were provided telephone facility till 2018. KFUEIT have also implemented cutting edge technology by providing IP Fax facility at the campus. Web Explorer can be used for composing and viewing fax messages which travel on network and are sent and received through IP Fax Server installed at data center.
Class Room Technology
Our classrooms, seminar halls and conference rooms are equipped with most modern technology for effective working. These devices include electronic rostrums and multimedia projectors. The electronic rostrums provide lecturer/presenter one touch control over IT/ multimedia facilities (multi-media projector, projection screen, computer, LAN/Internet, audio equipment etc) available in classrooms, lecture halls, seminar halls, conference rooms etc.
KFUEIT Management System
KFUEIT management system enables students to access all of their applications at a single point of location. Following IT services are accessible at MY KFUEIT through single sign on portal:
Home
News Feed
Plan of Study
Current Enrolments
Transcript
Roll Number slip
Surveys
Semester fee voucher
ID Card fee voucher
HR Management System
LMS (Learning Management System)
Exam Management System
Scholarship Management System
Timetable Management System
Library Management Systems
Transport Management Systems
Hostel Management System
Store and Inventory Management
Accounting & Finance System
Feedback Survey Reports
Case Management System
Webmail
ORIC
Software Downloads
Manuals
Open Courseware
Contact Directory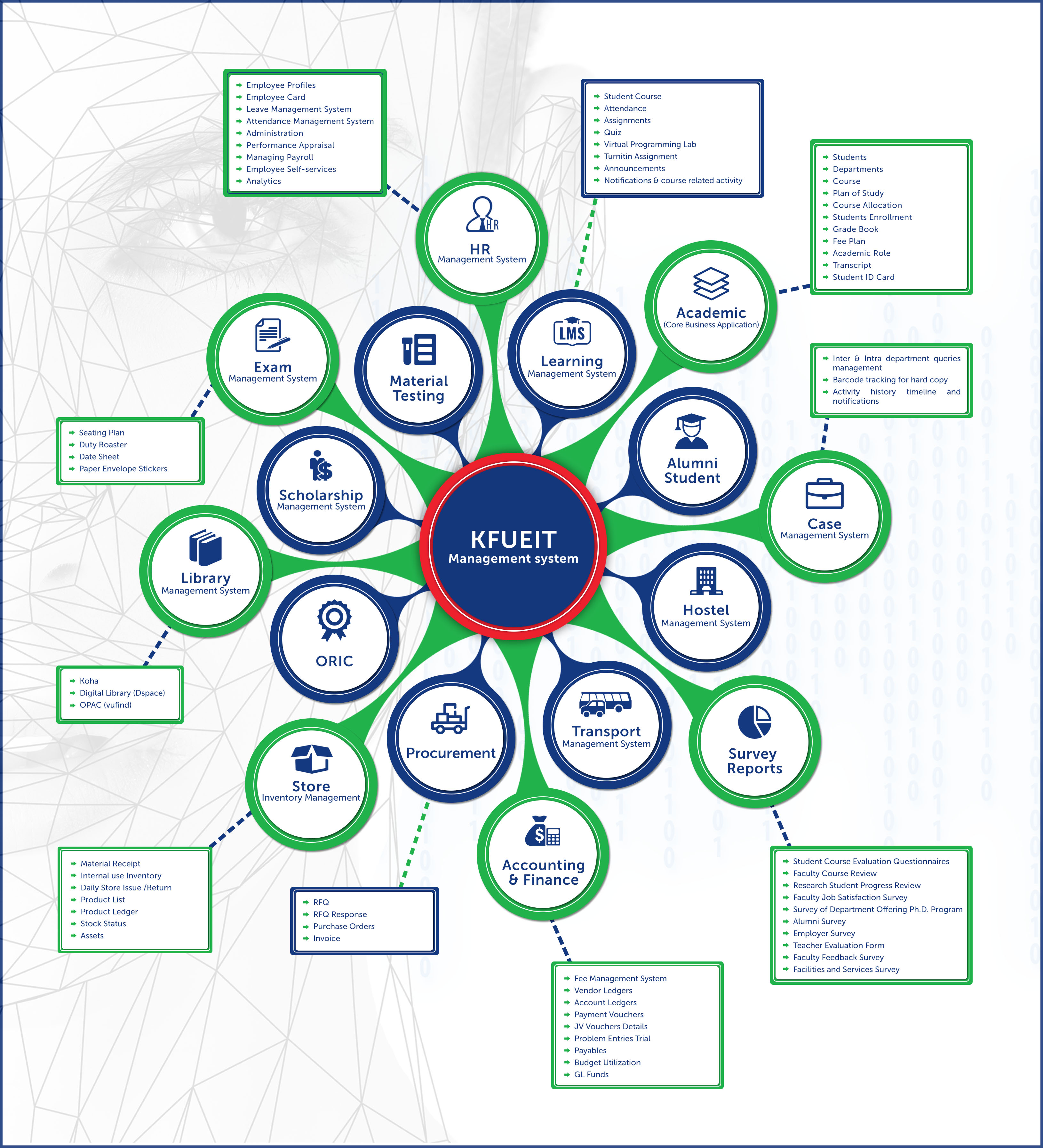 Learning Management System (LMS)
LMS provides the facility for students and teachers to manage their academic records of each semester with following components
• Student course
Attendance
Assignments
Quiz
Virtual Programming Lab
Turnitin Assignment
Announcements
Notifications and course related activity or resource
KFUEIT E-Portal
Online application software has many benefits over traditional paper-based application system. In traditional paper-based process thousands of applicants need to queue up for collecting their application forms and then need to come again for submitting their application forms to the relevant departments. This was a tedious process for both applicants and the departments of the University. ICT Department has developed in-house an application system at the University i.e. KFUEIT E-Portal which has successfully been implemented and practiced at the University since 2016. KFUEIT E-Portal facilitates the new applicants to use online system for their all kind of online application procedures like if applicant wants to apply for Admission, Tests, Short courses and Careers he/she can simply do it from a single web platform. He/She just needs to sign up to E-Portal and will ready to go for applying according to his/her requirement. Once the user gets sign-up at E-Portal, the same information will be entertained throughout the whole process of applicant's application process. This also help the departmnts to scrutinize the applicatns.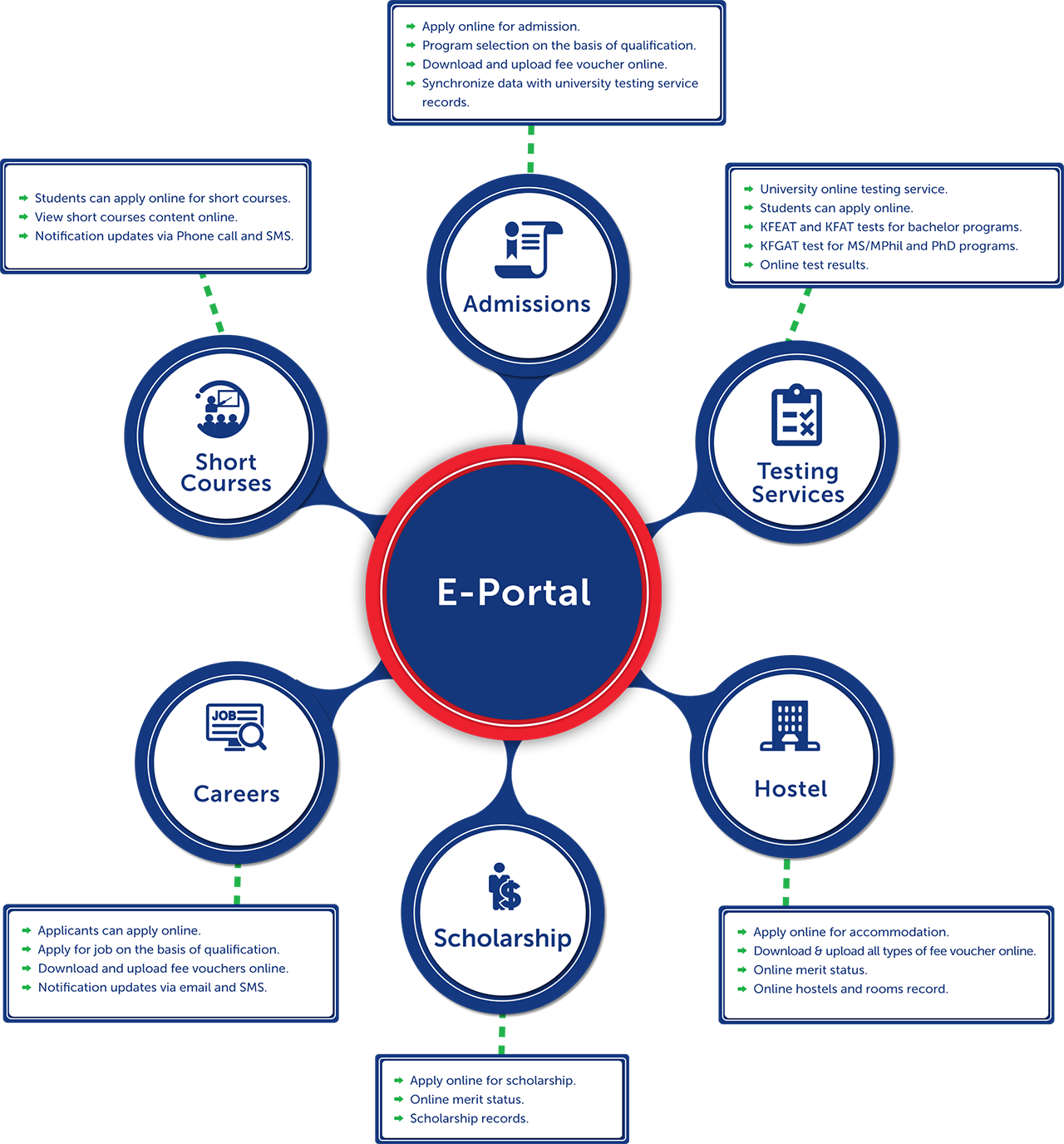 KFUEIT Time Table Management System
At the start of every semester, one of the foremost responsibilities of university time table department is to create a timetable for the teachers and students. As simple as this task sounds, in actuality, it can be a complex challenge to manage the availibility of teachers, infrastructure and facilities according to the needs of the studetnts. It is obvious that manual time table management can be a frustrating and highly time-consuming task at University scale like KFUEIT where we have to manage the thousands of students, hundreds of teachers with the best utilization of limited resources like classrooms and labs. KFUEIT time table management system is state of the art application and it generates class wise, teacher wise and room wise time table sheet.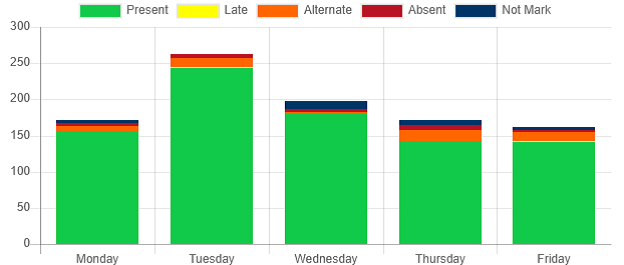 KFUEIT Visitor Management System
In many universities, visitors are still registered using a handwritten paper log. While this method is perceived as easy but slow, it provides virtually no security and leaves visitor information available for anyone to see. KFUEIT ICT department developed an automated visitor management system which is integrated with University other core applications like CBA and MIS. Automated visitor management systems lend a more professional appearance to check in systems, enhance security and meet compliance mandates for the collection and auditing of visitor data.
KFUEIT Feedback Survey System
The feedback students provide about teaching on their end-of-semester course evaluations can be valuable in helping you improve and refine your teaching. Soliciting mid-semester student feedback has the additional benefit of allowing you to hear your students' concerns while there is still time in the semester to make appropriate changes. At KFUEIT we have implemented online student feedback survey system which is conducted twice in a semester before midterm and final term exams.
KFUEIT Survey system facilitates role-based access to its users where students feedback surveys about the teachers are kept confidential during the semester and are disclosed only with Quality Enhancement Cell management. Feedback survey system is very flexible and it allows role base users access to the system. KFUEIT Quality Enhancement Cell department initiate and conducts the online surveys from the student and employees. As shown below the administrator and user role in the application interface.
A Glimpse of IT Facilities Available at KFUEIT
KFUEIT ICT facilities are being continuously upgraded to keep them in sync with fast paced advance in computing technologies. The KFUEIT believes that a modern IT environment for students, faculty and administration is absolutely essential for providing quality education. To achieve this objective, the recently commissioned state-of-the-art ICT infrastructure will allow easy accessibility to students, faculty, administration, as well as parents and alumni, enabling them to interact with one another. The KFUEIT ICT department provides computing facilities to staff, faculty, and students. It also develops plans with objectives and actions that help achieve a highly competitive and technology-intensive environment for the Institute. Few of the major IT services provisioned at the campus are as follows:
University Mini data center.
Campus Networking and IT Infrastructure with 1400+ wired nodes.
High-speed inter campus connectivity over fiber optics cable with transmission rate up to 10Gbps.
WiFi facility all over campus and in hostels with 70+ wireless access points.
Point to Point Radio links between Main Campus and hostels sites located outside in city area.
High speed Internet links of 506Mbps CIR bandwidth available at KFUEIT through multiple fiber and radio links.
HEC Pakistan Educational Research Network Link Connectivity.
HEC Digital Library Access
2 PRI lines with 30 phone lines available at each PRI.
400+ Computers for Students
All labs connected via high-speed LAN.
Video conferencing system.
Online admissions.
Online Job Portal
HR Management System
LMS (Learning Management System)
Exam Management System
Scholarship Management System
Timetable Management System
Library Management Systems
Store and Inventory Management
Accounting & Finance System
Lectures Attendance System
Visitor Management System
Case Management System
ORIC
Open Courseware
Hostel
Online Testing System
Transport Management Systems Management System
Online surveys for end-semester students feedback
Turnitin Access for Faculty and Student
E-rostrums and multimedia projectors for classrooms, labs and seminar halls
University website, Facebook page and LinkedIn page.
Video Surveillance System (NVR Based 100+ IP cameras)
VPN for secure data access from remote locations.
Directory Services.
Round the clock e-mail systems available for faculty, staff and students
IP Telephony and IP Based Fax System.
Firewall for data protection.
Biometric based attendance system.
Campus ID Card Printing.
Linux based systems with windows operating system.