How to Apply for Admission
A candidate seeking admission in Bachelor & Master classes shall apply online as per prescribed procedure:
Candidates shall register himself/herself on the university Website www.kfueit.edu.pk by filling the registration form.
After completing registration he/she will be able to fill Admission application form by using his/her login credentials. While submitting the admission form, the applications are advised to be careful and provide the correct information.
After submitting the application, system will generate a challan form, to be printed by the candidate.
The applicant shall deposit prescribed admission processing fee on auto generated challan in any nearest HBL branch and then upload a copy of paid challan.
The candidate will be able to check the status of his/her application online by logging in.
Merit lists are displayed on website. If the candidate's name appears in a merit list, with in due date he/she has to submit all original documents to the admission office and follow the instructions of the admission office.
How to apply for KFUEIT Entry Test
Step 2:
You will see the window below: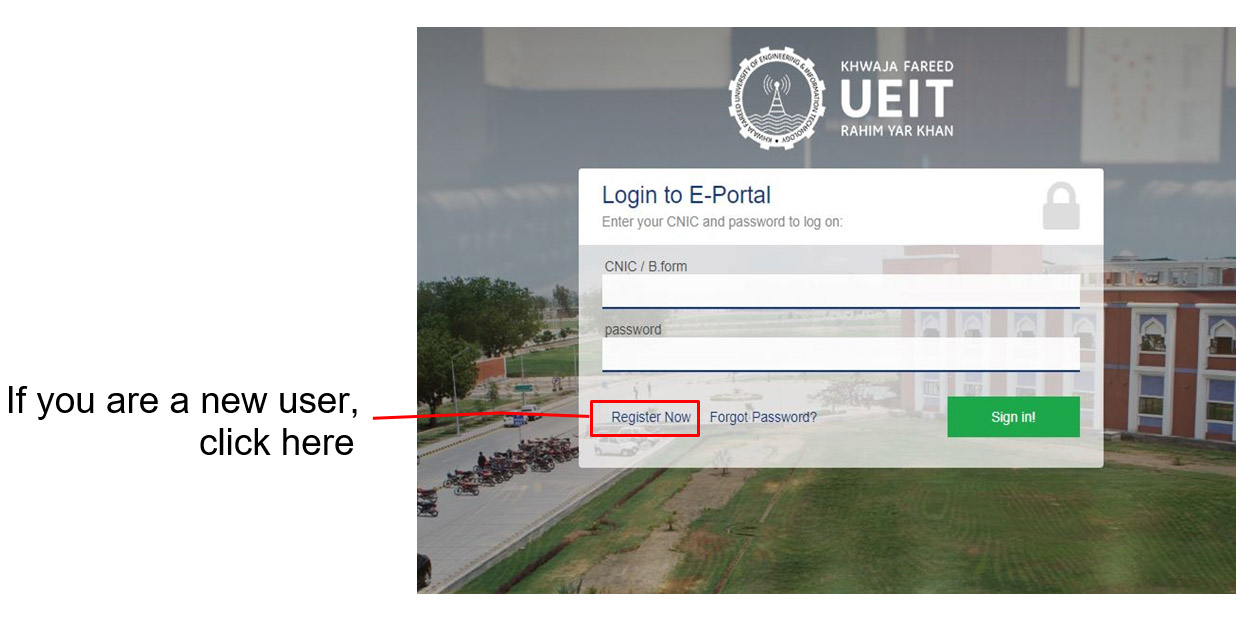 Step 3:
You will have this window next: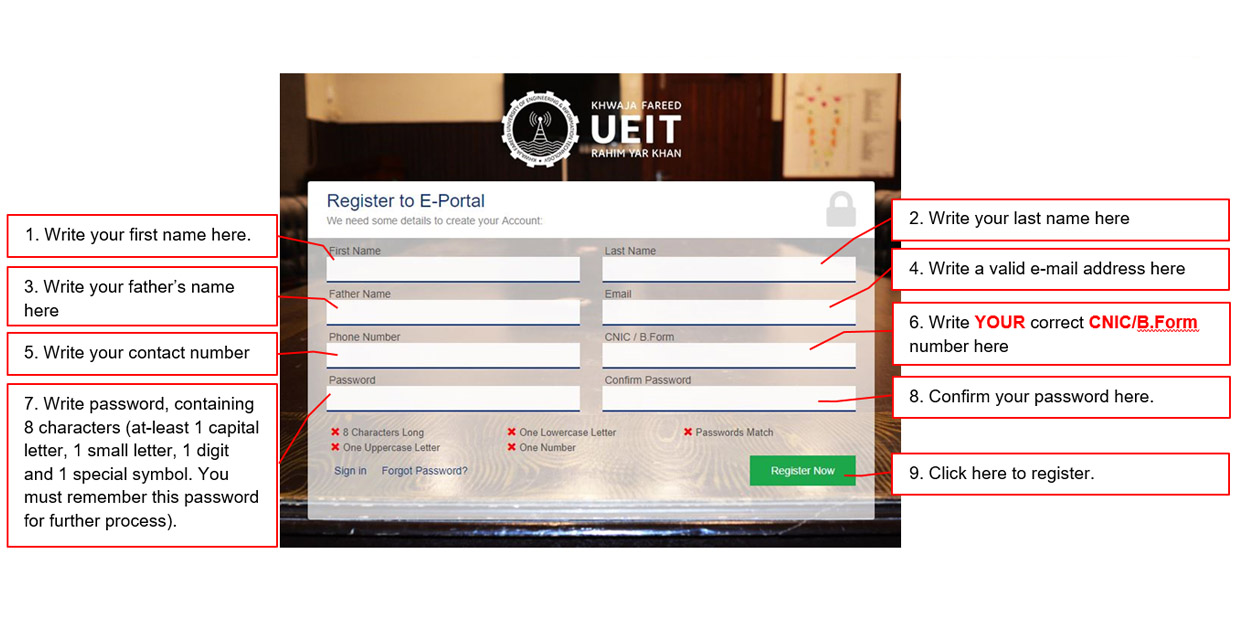 Step 4:
After clicking the register window, you will have this portal next: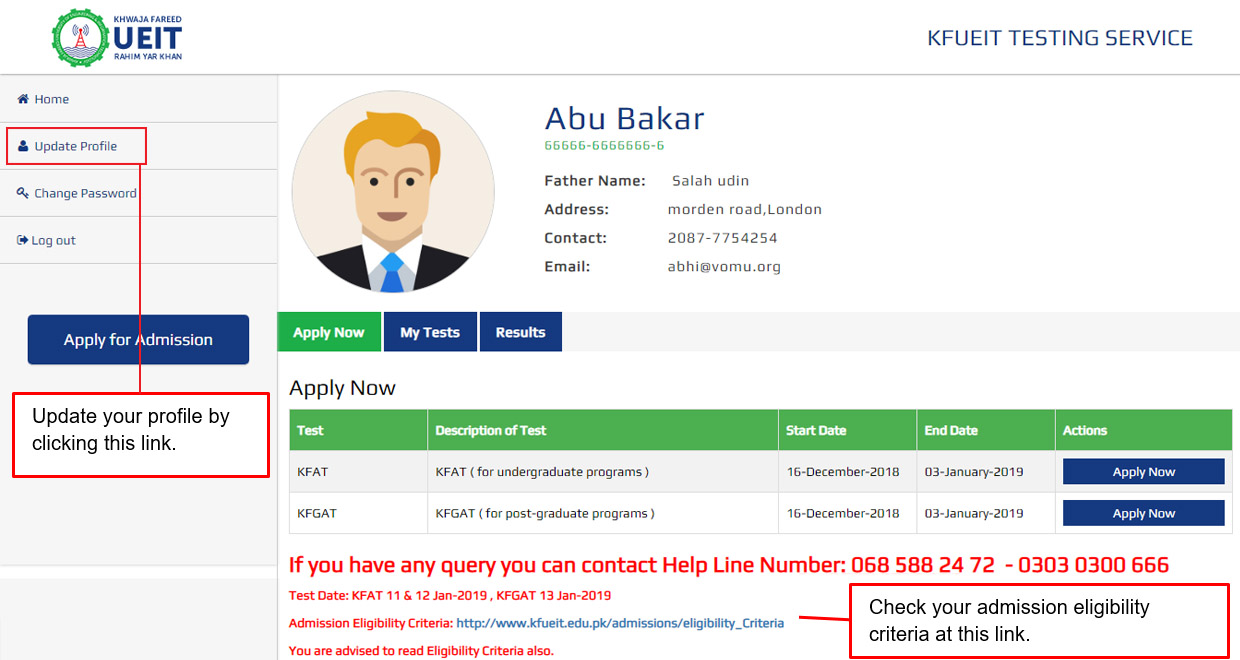 Step 5:
By clicking "update your profile" link against your required test, you will have this page.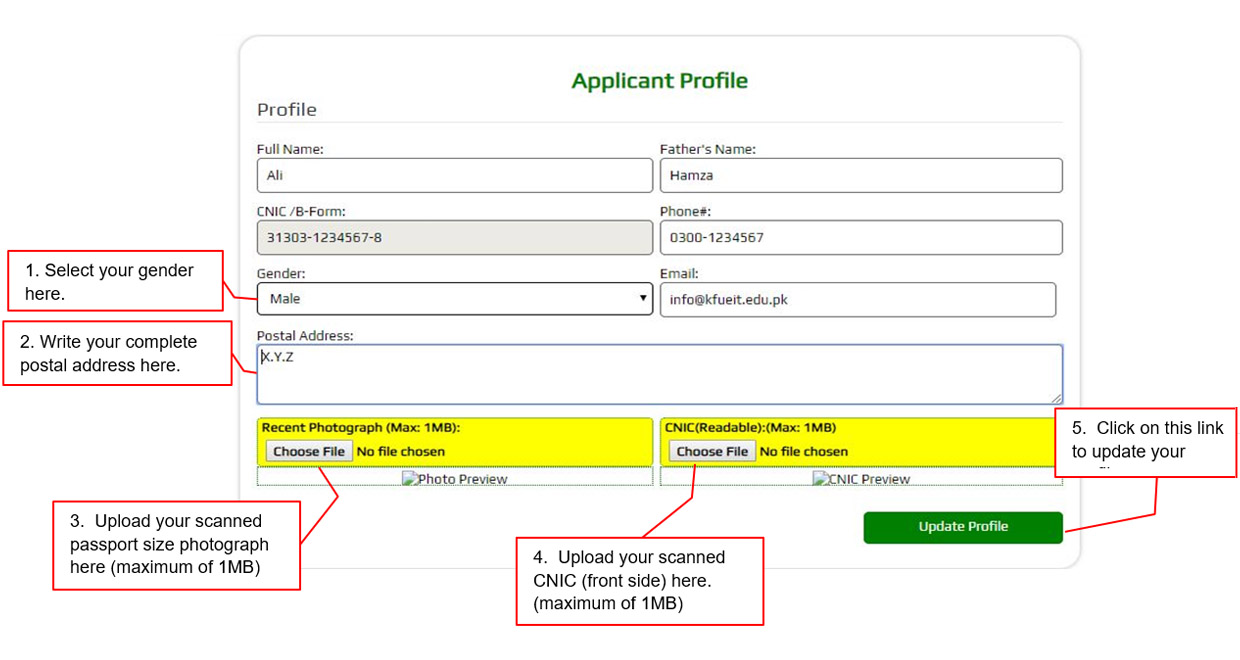 Note: Make sure the data you have entered above is correct.
Step 6:
When u click update profile, the window will show like this: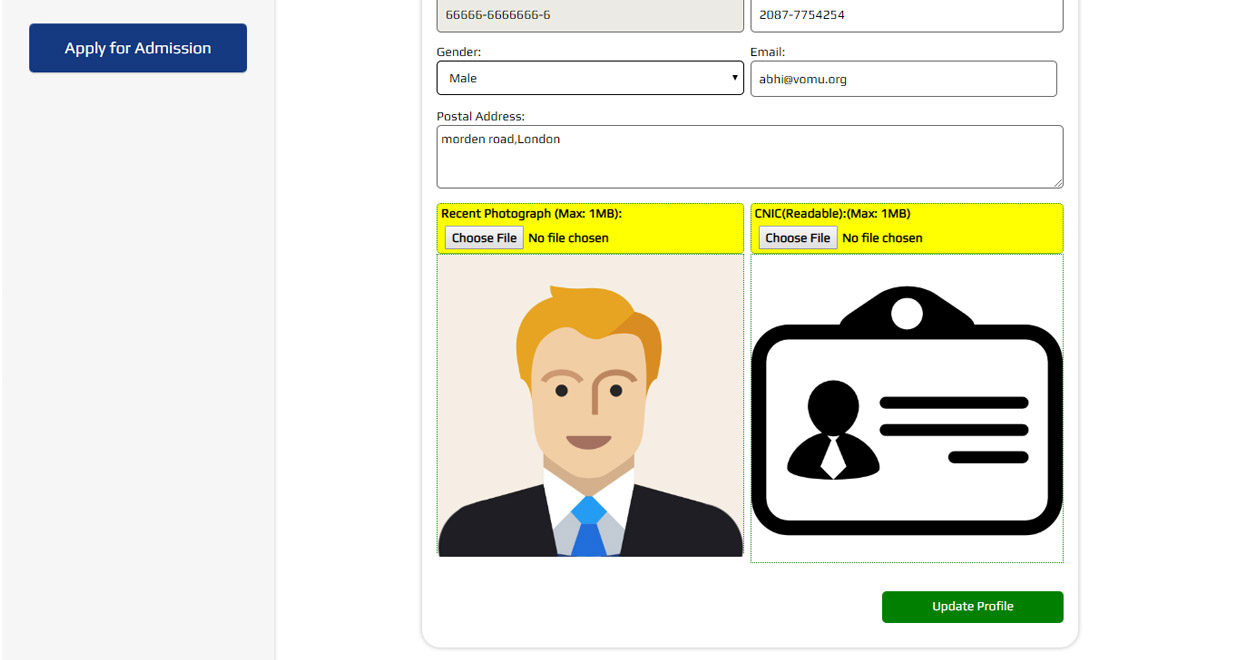 Step 7:
After "Updating Profile", click at "Home" menu from left side: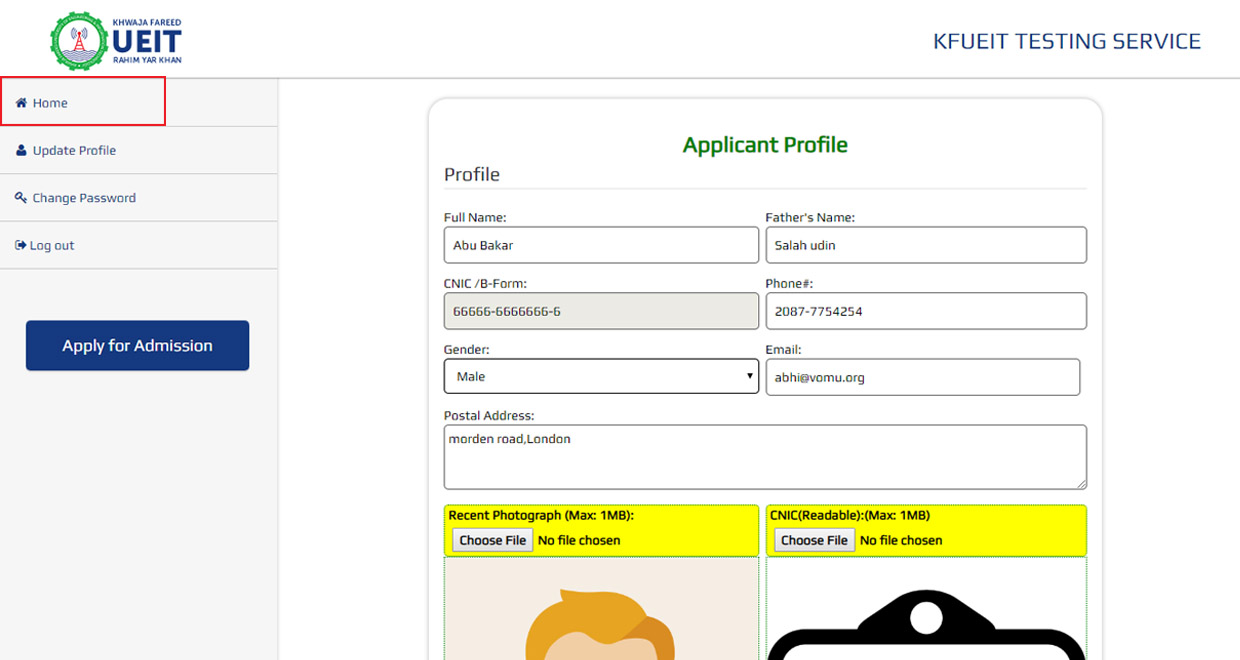 Then you will have this page.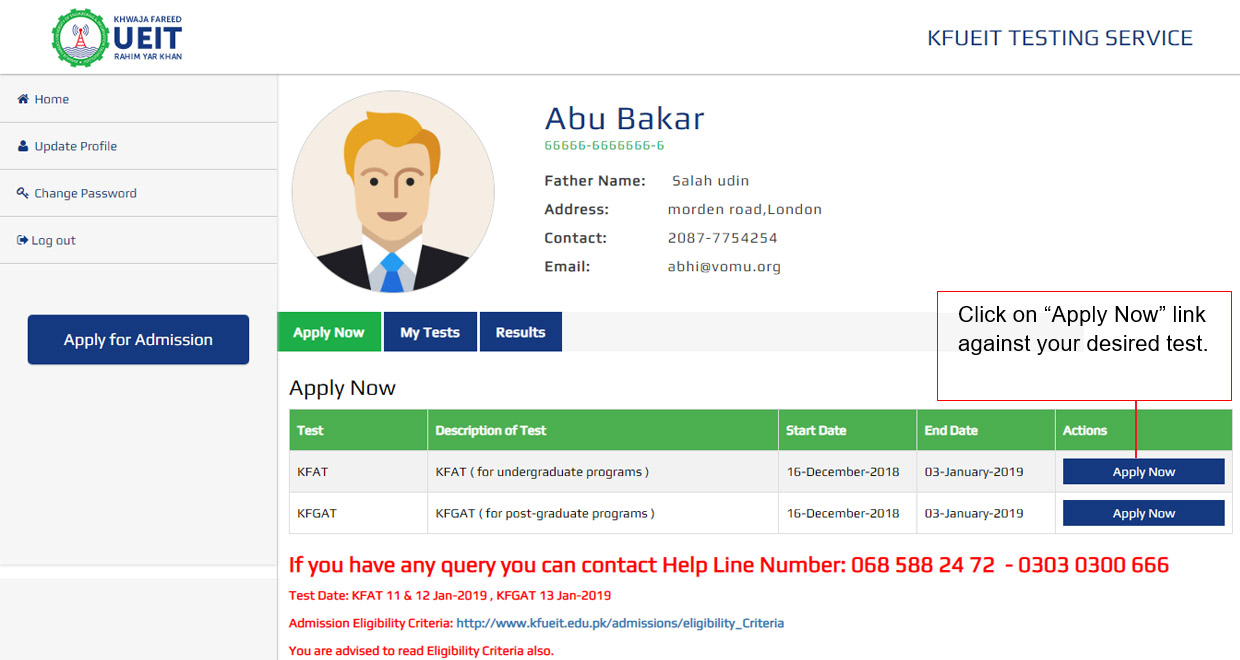 When you click "Apply Now" button, you will see this page.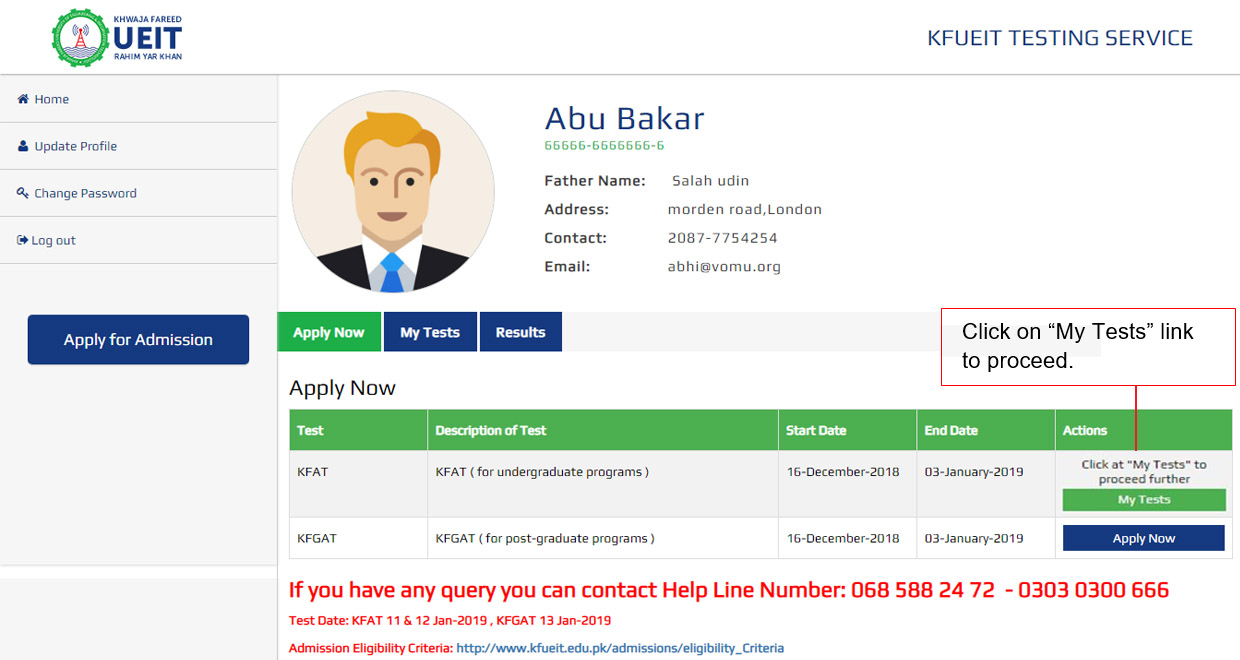 Step 8: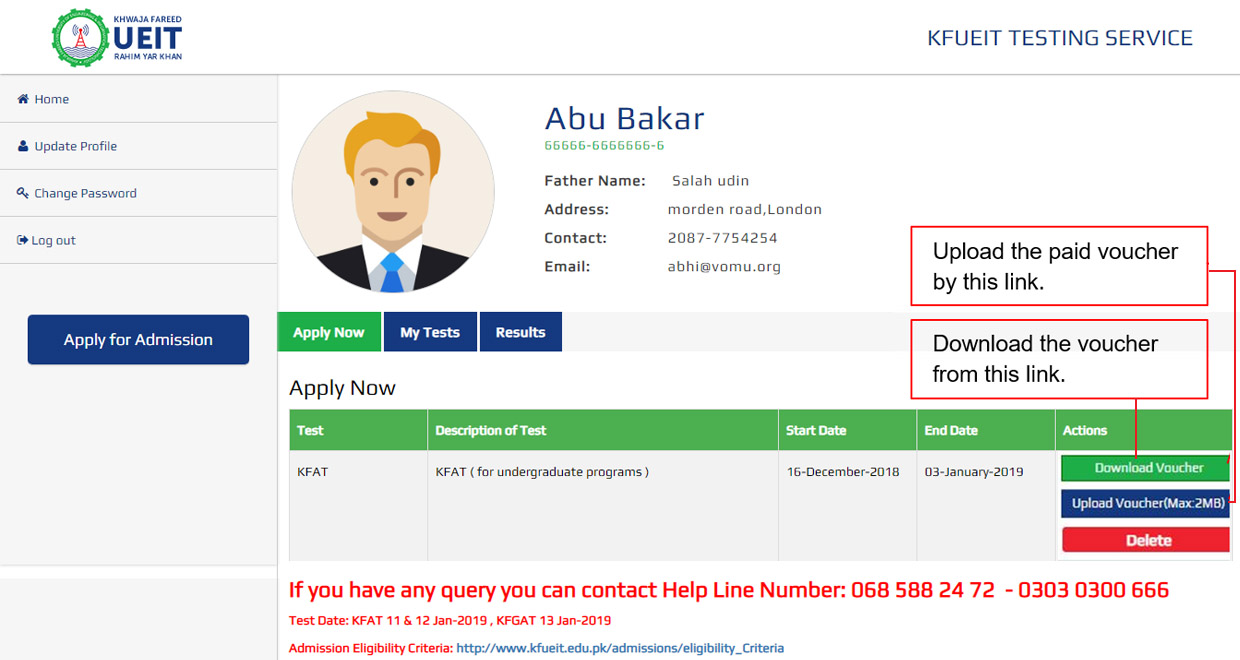 Step 9:
The downloaded voucher will be like this for KFAT Test: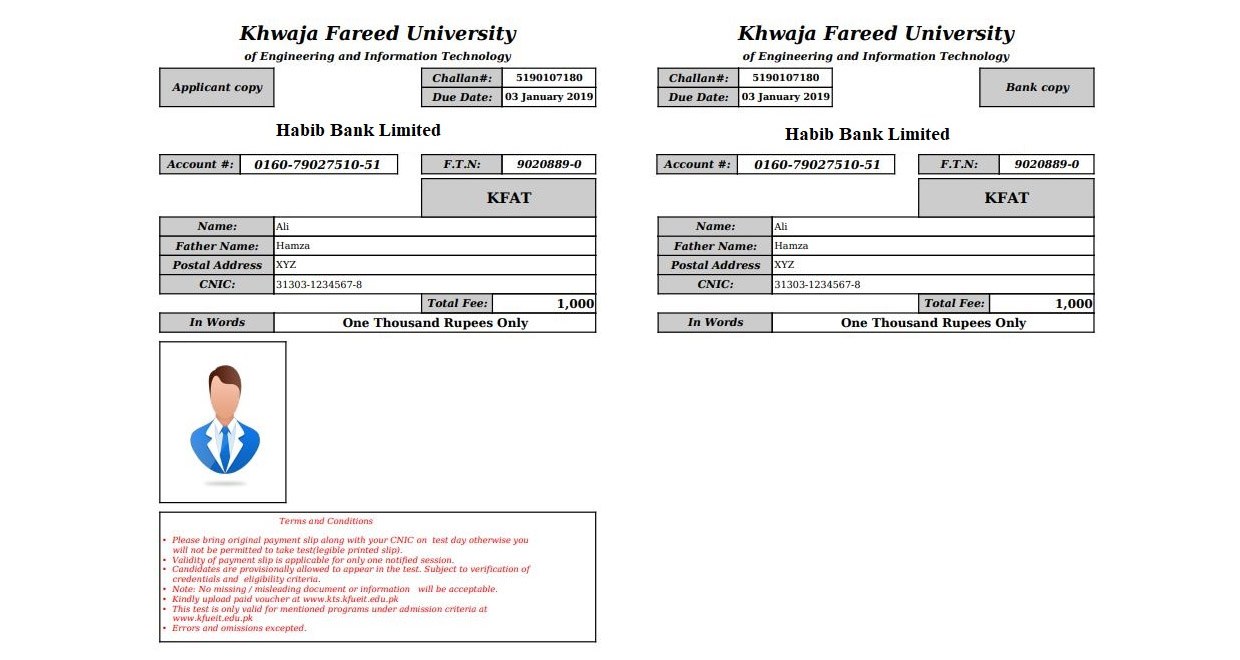 Step 10:
Pay the test fee mentioned in the voucher and upload scanned copy of paid voucher at the link for verification: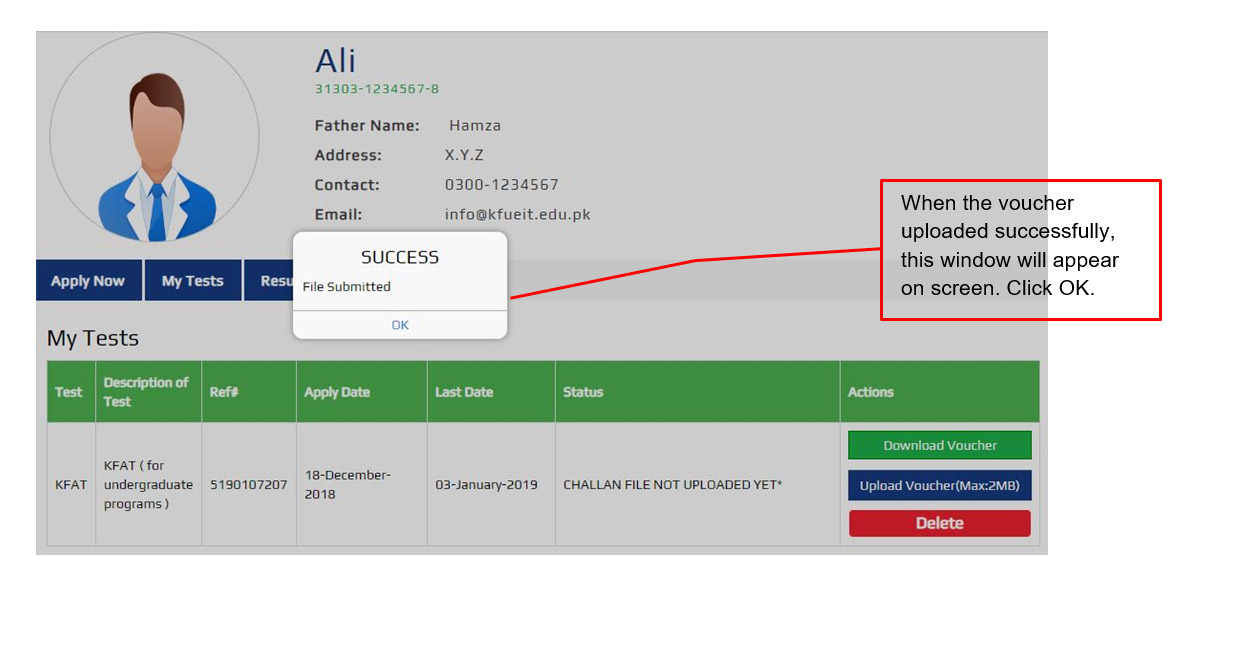 Step 11:
After uploaded the voucher, go to the "My Tests" menu as shown below, Check your status: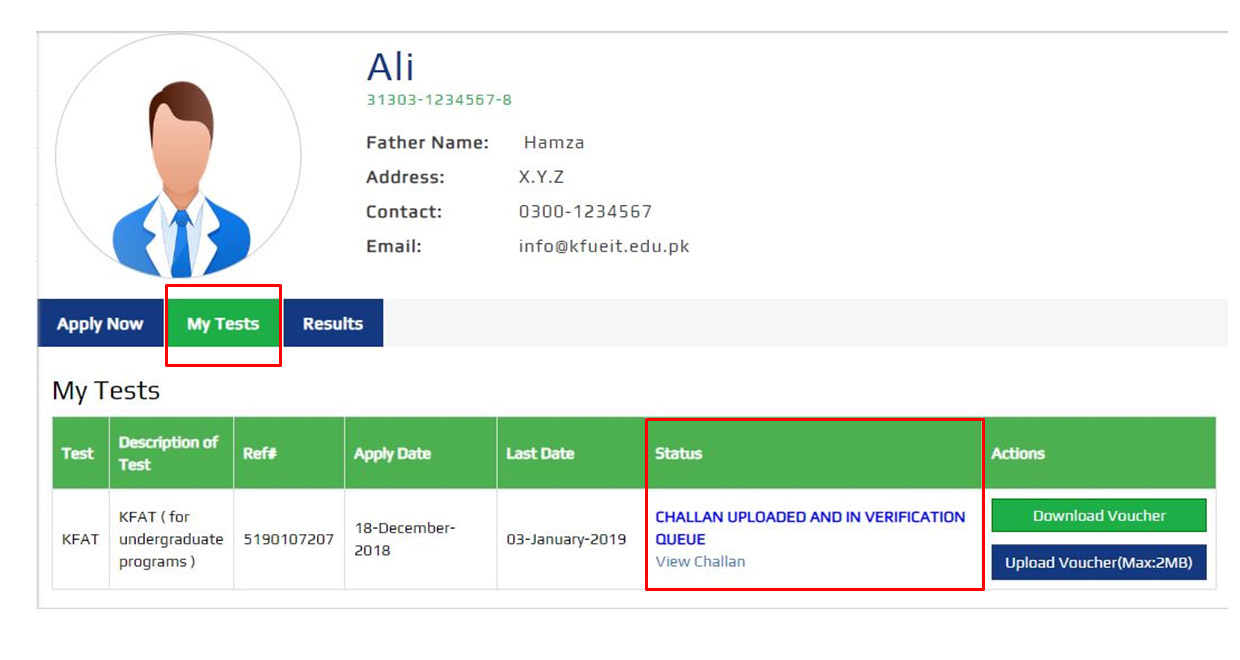 Your application status will show like mentioned above. It shows that you have successfully applied for the test and your voucher is in verification process.
SPECIAL INSTRUCTIONS:
Upload clear scanned photograph and CNIC image.
Upload clear scanned voucher for verification (readable).
Remember your password to get back this portal for your result.


TO RECOVER YOUR PASSWORD
Step 2:
You will see the window below: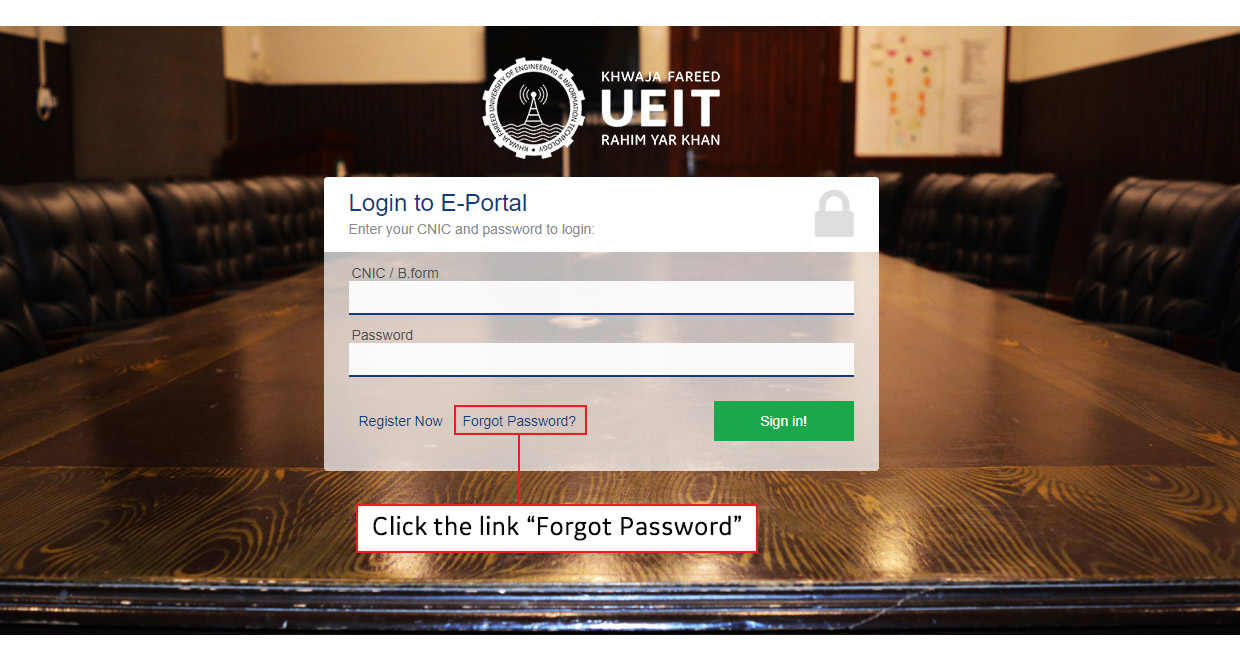 Step 3:
You will see the following window: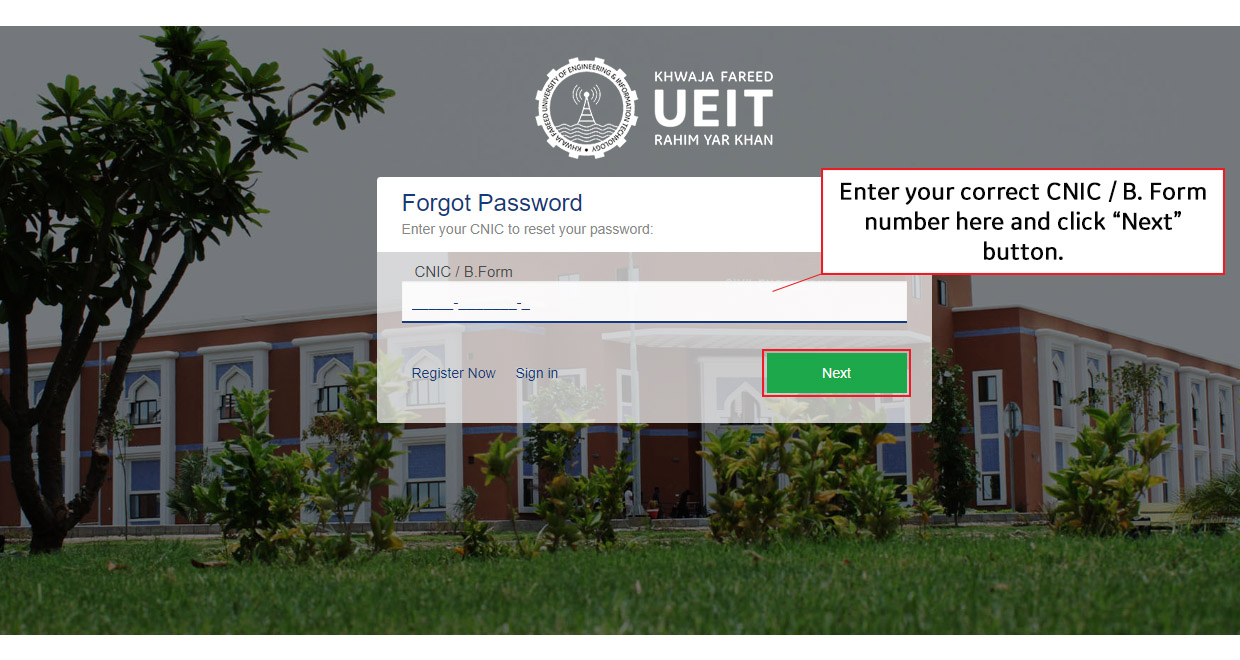 Step 4:
You will have this page. Chose the option by which you want to recover your password and click "Next":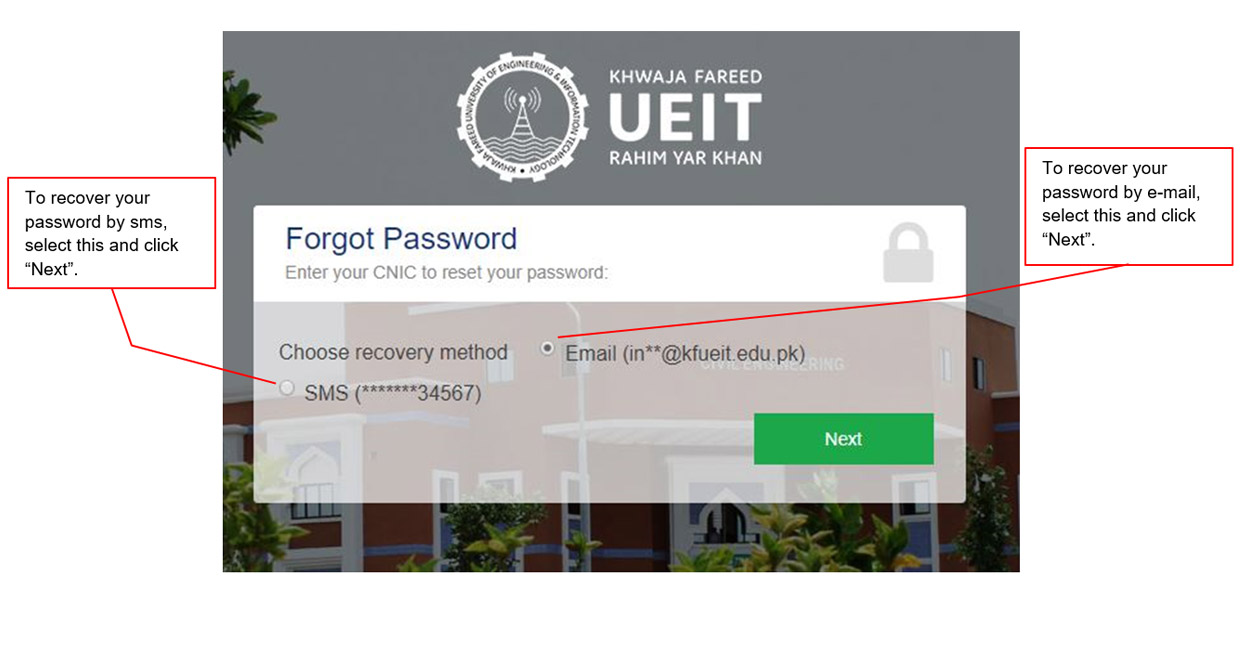 Step 5:
You will see the following page. Write security code received by your mobile number or e-mail address and click "Next" button: